Electronic cigarettes can be simple and light. Unlike bulky vaporizers, smaller e-cigarettes look more attractive and are more convenient in everyday use.
Who would not like to have a compact device that can fit a hand and can be easily used whenever? One of the most popular devices of this kind among our clients is Smiss 90560 disposable pod. In this article, we will focus on its characteristics, packaging options, customization, and how to place an order on the Vaporfly site to make money on it.
What is Smiss disposable pod?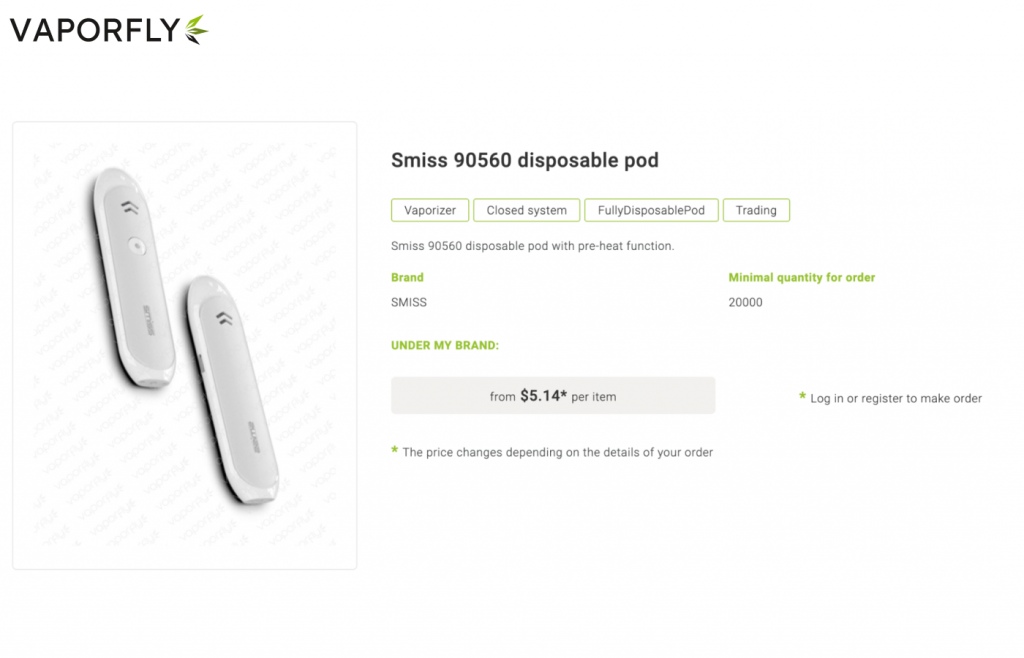 Smiss 905690 is a disposable pod with a round-edged oblong stick shape. To be more precise, it's 116.3mm in length, 18mm in height, and 8.2mm in width with a 1ml tank. Weighing only 17 grams, the device fits comfortably in any hand or pocket.
It's a versatile vape for regular e-liquids or cannabis oils so it doesn't matter what purpose this vape should have, it can be customized in this way. One of the advantages of this disposable vaporizer is that it can be recharged so a user is guaranteed to be able to finish the oil.
As you can see on the screenshot above, the price for this pod starts from $5,14 per piece, but if you want to customize all the pods, the price may change. The minimum order quantity is 20,000 pieces.
Smiss 90560 special features
Smiss 90560 is one of the first one-piece designs without downstem and portholes
This device also does not contain metals, it has an adhesive base and is, therefore, less harmful to health
It has a pure ceramic coil and therefore there is no need to worry about it giving off any aftertaste when heated. It will give a better flavor taste
This vaporizer is designed specifically for easy filling and capping which is a manufacturing benefit
Smiss 90560 is a USB rechargeable
With a new technology implemented when manufacturing these devices, Smiss 90560 creates big smooth vapor clouds.
Such advantages for consumers make this device very competitive in the market. As recent trends show, people care about the size of devices, oil containers, and batteries because it affects usability. Smiss 90560 is configured to satisfy its customer as much as possible. The device is everything one could want from a disposable vaporizer. They're small and light so they're easily portable.
Customization options
Every brand wants to place their logos on products and in this case, Vaporfly offers wide customization services. You can set your own design both on the site and with the help of a manager. Moreover, everything you can find in the Vaporfly catalog is available for customization. There are 510 cartridges, vaporizers, 510 batteries, vape pens, pod systems, accessories, and different kinds of packaging available for customization.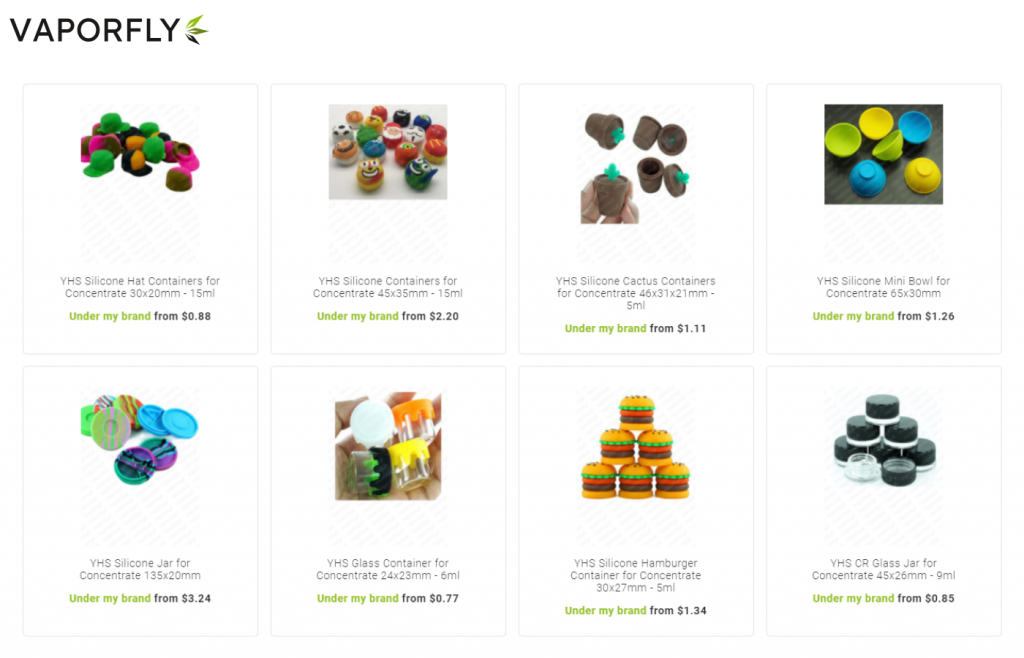 In order to place a logo on a device on the site, you need to select the area where to place the logo and upload a picture.
If there are any difficulties with this or if the site does not have sufficient functionality, Vaporfly has a team of professionals that will always help.
Smiss 90560 comes in original equipment manufacturer (OEM) packaging and in the Vaporfly's catalog, there is no yet to replace it. But the OEM packaging has three options to choose from.
Just remember that depending on the number of customizable items and the complexity of the work, the cost of one pod may vary.
If you are considering placing an order, but you do not like the OEM packaging, contact the Vaporfly manager to find out about the possibilities of arranging this.
Summary
When it comes to making the right choice, a lot depends on a user's vape style, size preferences, budget, and the shape or design that a user prefers. Smiss disposable pod has a neutral design that everyone will like and nice additions that not all competitors have. For example, the ability to charge the device and use the oil to the end. Some competitors do not bother and leave it to a user when the oil has not yet run out, and the vape has already turned off. In the case of Smiss, a user will have a pleasant feeling that the manufacturer has taken care of his comfort.
Сonsidering all the characteristics of the device, this is a very worthy option for ordering.